Advent Elementary & Middle School
Admissions Information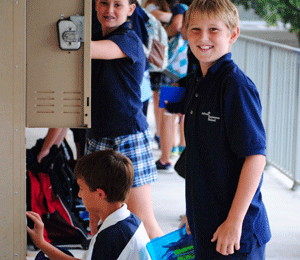 Thank you for your interest in Advent School. We know that selecting a school for your child is one of the most important decisions you can make for their future. You can rest assured that at Advent we value your child as a gift from God and recognize your child's own unique gifts and talents.
Advent has been a place of growth and learning for families in Boca Raton and the surrounding communities for over 50 years, but it's not about our past 50 years, it's about your child's next decade and therefore we give your child our very best!
In our nurturing and supportive environment, your child will be challenged to grow academically, spiritually, and emotionally, preparing them to be the next generation of innovators, influencers, and Christian leaders. Ready to join Advent?
A successful elementary and middle school experience is foundational for your child's success in life. For that reason, we take the admissions process very seriously. We get to know your student and your family as part of the admission process. We work closely with you to ensure we look the full picture of your child's current school performance and their potential.
Enrollment is open year-round on a space available basis and transfers are accepted.
1 – First, both parents (if applicable) meet our Principal, Laura Bluhm, for a one-hour Educational Success Consultation. This is a one-on-one meeting with our principal to talk about your child's specific goals and needs. You will also get to take a tour of our active campus. Call our office at 561-395-3631 and select Option 2 to schedule your appointment today.
2 – Next, complete an Application and schedule a Placement Test for your student.
3 – Gather additional documentation needed: current and past year's report cards and standardized test scores, teacher recommendation (see links below), Birth Certificate, Health Forms (Immunization and Physical), and other documentation as requested.
4 – Upon acceptance, complete the Registration Form.
5 – Get your class welcome package and get ready for an awesome year!
Tuition and Financial Aid Information
At Advent, we strongly believe that Christian education is not a commodity, it's a ministry! It's a commitment! It's a connection-a connection between your child's need, your family philosophy, and our philosophy!
That's why at Advent, the most important consideration is what is educationally best for your child. All other considerations are secondary. That being said, we know that money is an important consideration for any parent. That is why we have committed up to $200,000 in need-based financial assistance through our Family Assistance Plan. For current tuition rates, please call the school office to schedule a Free Educational Success Consultation. Tuition information and how to apply for Financial Aid (if needed) will be covered in that meeting.
Advent School accepts qualified applicants without regard to race, gender, religion, national or ethnic origin, disability/handicap, economic or social status. We take pride in the diversity of our students.
Teacher Recommendation Forms
Schedule an Educational Success Consultation & Tour Today!
After Hours? No Problem!
Fill out the Request Information Form
and we will get back to you right away!