Advent Early Childhood Education in Boca Raton (ECS)
Ministry of Advent Church Boca
Advent Early Childhood School is a private, Christian, preschool for children 6 weeks old through Prekindergarten. We provide a safe and secure campus allowing our children and staff to devote themselves wholeheartedly to the quest of learning and growing.
All our staff members are dedicated to providing a Christian role model as they lead by example and teach with respect to our children. Our lead teachers are Florida Certified and are trained in current educational practices. They are passionate about children, education and faith.
Our school is accredited by the National Lutheran School Association and has been in good standing for 50 years. Call our office to schedule a tour!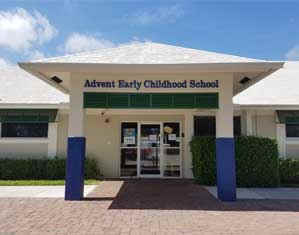 Early Childhood School Information
300 E. Yamato Road, Boca Raton 33431
Office Hours: Monday – Friday 7:30am – 5:30pm
Office Phone: 561-395-3631 Option #1
Office Manager: Mrs. Donna Lockrow
Advent Early Childhood School Profile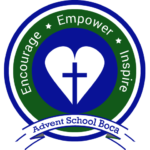 Private School: Founded in 1968
Serving Infants 6 weeks old through Prekindergarten
School Colors: Blue & White
Friday Morning Chapels: 9:45 a.m.& 10:15 a.m.
Advent Early Childhood offers:
Child-centered facilities in a loving, neighborhood setting

Infant and toddler programs for children as young as 6 weeks old

Children 2 years old, we offer early morning half-day classes and full extended day programs

Accredited programs with focus on age-appropriate skills and centers of discovery

Teaching techniques that emphasize process rather than product

Physical education and music

Ongoing church and school sponsored parenting workshops and programs for all family members

Extracurricular programs include tumbling,soccer, and early literacy program for children 3 to 4 years

Vacation Care during holiday and classroom closed days, must reserve a space with the Front Desk

Advent participates in Florida State VPK program for Prekindergarten children

Dual language Spanish program offered for PreKindergarten children
ECS – Administration Staff
About Advent
Early Childhood School